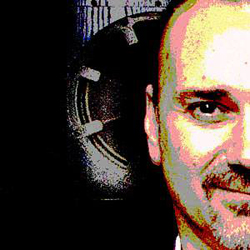 Nick Watson
Master engineer
Collaborated on
Mastering engineer for: Just Me (and sometimes someone else)
Mastering engineer for Black, White and a Little Bit of Grey
Mastering engineer for Fierce and Non-Compliant
Mastering engineer for Red Flags and High Heels
Mastering engineer for 7 Songs in 7 Days
Mastering engineer for Thoughts, Conversations and To Do Lists
About
The son of a prominent guitar teacher and session musician, Nick's interest in sound engineering began with compiling mix-tapes at home and deepened when he and his school band-mates experimented with recording their own 4-track demos.
His fascination with the mechanics of sound was further developed when Nick studied for a degree in Electro-Acoustics at Salford University. This was followed by a couple of years working in recording studios before Nick found his true vocation in 1990, kicking off his career in mastering at SRT in Cambridge – a mastering and manufacturing facility known for servicing the UK independent scene.
During this eclectic period in which Nick cut his teeth mastering all manner of independent projects in every conceivable genre, he also earned an enviable reputation for the re-mastering and occasional remixing of catalogue material; producing acclaimed reissues by artists such as Fleetwood Mac and Deep Purple.
Fast forward to the end of the decade; Nick moved on to London's renowned Townhouse studios where he broadened his experience still further, combining the precision and versatility of digital tools with the character, depth and visceral impact which a high quality analogue signal path can provide.
It was during this time that Nick met Tim Debney, and together they hatched a plan to open a new studio, offering a quality service in line with London's best, whilst keeping overheads to a minimum in order to pass the savings on to their clients, and so in 2006 Fluid Mastering came to be.
The fifteen years or so since then have seen Fluid's reputation grow, becoming the mastering studio of choice for niche and major labels alike; as well as catering directly to self-funded artists of course. In this time Nick has mastered albums for award winning Folk artists such as Josienne Clarke and Ben Walker, Sam Lee, and Brighde Chaimbeul; Jazz artists such as Ian Shaw, Andrew McCormack and Melt Yourself Down; Rock artists such as Dinosaur Pile-Up and Black Metal architects Venom, and Pop artists including Pixie Lott, Gabrielle Aplin and Seal, as well as Indie bands such as Embrace, Sundara Karma and Sea Girls. In addition to new material, Nick has also enjoyed remastering in High Resolution Audio classic albums by Howard Jones, Chris Rea and The Pentangle, the eponymous 2nd album by The Libertines and The Feeling's double platinum debut Twelve Stops and Home.