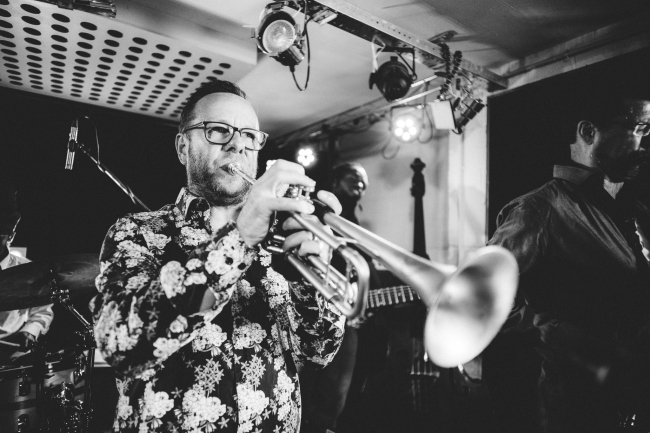 Collaborated on
The Live Sessions Album
Gigs: Pizza Express, The Bulls Head, Toulouse Lautrec, Hampstead Jazz Club and more
Trumpets on Red Flags and High Heels Album
Trumpets on 7 Songs in & Days
Trumpets on Thoughts, Conversations and To Do Lists
About
Dave has been playing trumpet since aged 9 and soon caught the bug. Whilst still at school, he performed at many major UK concert venues with various youth orchestras and big bands and then gained a music degree from Ruskin University, which is where he first met and gigged with Loren Hignell, also one of Fiona's collaborators. After University, Dave sought lessons with respected session trumpeter Brian Rance and also world renowned jazz artist Gerard Presencer. He has played with many artists, including Hackney Colliery Band, Glenn Miller Memorial Orchestra, Brazilian festival favourites The Fontanas, rock/blues icons Nine Below Zero and of course Fiona. His trumpet has taken him to some beautiful and far flung places, including Singapore, Lake Como and Tuscany in Italy, Greece and Australia to name a few. He is an experienced session musician and live performer and is loving gigging with Ms Ross. Dave likes cycling, AFC Wimbledon, geeking out over trumpet gear and Jaffa cakes. He also has a penchant for bread sticks and hummus.
Equipment:
Dave plays a large bore Kanstul French Besson Meha trumpet and a Phil Parker lead model mouthpiece.
Other gear:
B&S Elaboration 37 bell trumpet
Olds Ambassador trumpet
Olds flugelhorn
Bob Reeves custom mouthpiece
Dave uses Protec cases and Ultra Pure ultra light valve oil.
He is a fan of the Warburton P.E.T.E and Larry Meregillano's Compression Training System.