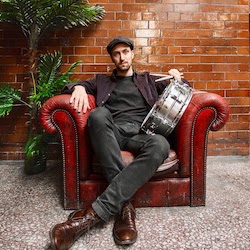 Adam Hayes
Drums and Percussion
Collaborated on
Percussion on Fierce and Non-Compliant
Live Performances: Pizza Express, Colchester Arts Centre Jazz Club, Toulouse Lautrec and The Bulls Head
About
Hailing from a family of top musicians, London-based freelance drummer Adam Hayes brings an old school, authentic, journeyman approach to every project.
Adam has worked with a wide range of artists including Katrina and the Waves, The Pharcyde, Iman Omari, Ty, Ill Camille, Ruth Brown and many more.
He has extensive international gigging experience, from festivals including SXSW, Love Supreme and Boomtown, to countless renowned gig venues across London and the world.
Having recorded in studios from Abbey Road to Konk, from RAK to Paul Epworth's The Church Studios, Adam has developed a unique sound and style that compliments the song and brings out the best in any track.
Links